---
FOR THE BIRDS TRAPPED IN AIRPORTS
︎︎︎︎︎︎︎︎︎︎︎︎︎︎︎︎︎︎︎︎︎︎︎︎︎︎︎︎︎︎︎︎︎︎︎︎︎︎︎︎︎︎︎︎︎︎︎︎︎︎︎︎︎︎

MATTHEW DESIGNS AND PRODUCES FURNITURE FOR FRIENDS,
BASED ON QUALITIES ABOUT THEM, AS WELL AS
WHAT THEY DESIRE IN THAT TYPE OF FURNITURE.

BELOW ARE THE STYLES AVAILABLE FOR COMMISSION.


IF YOU'D LIKE TO COMMISION A PIECE:
IT WILL BE MADE TO ORDER
+ CAN HAVE SMALL ADJUSTMENTS,
LIKE WOOD TYPE, HARDWARE, OR PHYSICAL SIZE—

BUT PLEASE, IF YOU HAVE ANY QUESTIONS, JUST ASK!
All furniture inquiries can be made here:
studio [at] forthebirdstrappedinairports.com
THE ADAM DESK
THE ADAM DESK (inspired by Adam Grossi) is a one-leg desk and dimmable light fixture that can be used for writing, as Adam uses it, or as a dining table or anything you want. The table top is fastened to the wall and reinforced by the light fixture. The cord is hidden behind a matching wood piece with a hovering platform that is also fastened to the wall so that you can put heavier objects on top, like plants or books. Originally made with entirely old growth yellow pine.
THE KORDE DESK
THE KORDE DESK (inspired by Korde Tuttle) is a travel-friendly desk that can be moved by one person and fit in any size car. Originally designed with a solid red oak slab top finished with danish oil and paste wax, and collapsible legs made of old growth yellow pine. The desk legs have adjustable feet to fit the slopes of any floor it sits on. The voids of the desktop are filled with thermochromic epoxy to change (black to clear) with the heat of each environment the desk exists within.
WOOD CUSHION FOLDING CHAIR (RESURRECTIONS)
Dependent on available materials, I restore shitty / broken folding chairs into nice places to sit. Typically the seats and backs are made from cedar or poplar, with a danish oil and paste wax finish.
THE ORIANA DESK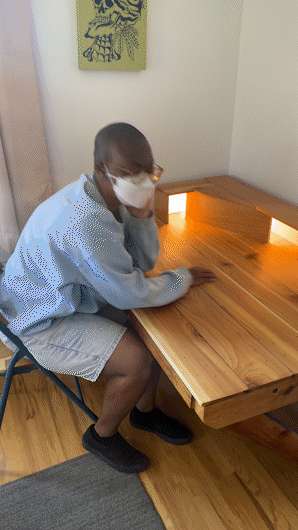 THE ORIANA DESK (inspired by Oriana Koren) is a freestanding two-part desk—foldable legs secured to a light fixture top that has a small storage compartment with a non-mortise hinge door. It is a heavy desk meant for long-term stay, but can easily be taken apart when transport is necessary. The upper shelf of the table top is structural to display heavier items, and below it is a dimmable bounced light that emanates from the walls below the shelf. The table top, shelf, and storage is made with cedar, and the legs are old growth yellow pine. The spaces between the planks on the desktop are filled with a thermochromic epoxy that changes based on the heat of the room (dark gray to metallic white).
THE KWABENA DESK
THE KWABENA DESK (inspired by Kwabena Foli) is a long, structurally solid desk made entirely of old growth yellow pine made from reclaimed studs in fallen Chicago buildings. The voids from former nails in the studs are filled with black CA glue. The finish is danish oil and natural paste wax. This desk is designed to fit the entire width of a room, but not take too much space within it—giving ample space for engaging in several creative practices simultanously, without overcrowding the desktop space or the room it lives in.
THE MATTHEW a.k.a. the DEAD HORSE a.k.a. THEE TOE TAPPER is a walnut slab table with maple legs that seats 4 comfortably but in a way where they'll need to figure it out by talking to each other about how to do that. It is the first piece of furniture I (Matthew) made for my own use that I also spent proper time and care with making. The many large voids are filled with a combination of black CA glue and thermochromic epoxy resin.
Yes, the table is sturdy despite its high heels. 👠️👠️
Thank you for visiting.



Looking for our shop?

It's called Speculation Bookshop, our partner company, and you can purchase our work and others there:



︎ ︎ ︎ ︎ ︎ ︎ ︎ ︎ ︎ ︎ ︎ ︎ ︎ ︎ ︎ ︎ ︎ ︎ ︎ ︎ ︎ ︎ ︎ ︎ ︎





Four more things you can know about us:


---
---
---
---